In this section we try to provide an up to date list with conferences, workshops and courses – with and without participation of EUCALAND. Soon, it will be seperated into a EUCALAND event page and a "related conferences and events page". You can stay informed by subscribing to the newsletter. We inform our members also by email circulations.
Attention: EUCALAND is not responsible for the content of the linked pages, nor of the proposed events. Members of EUCALAND are welcome to inform the This email address is being protected from spambots. You need JavaScript enabled to view it. about events, projects and latest publications, in order to publish them here and/or in the newsletter.
September 2017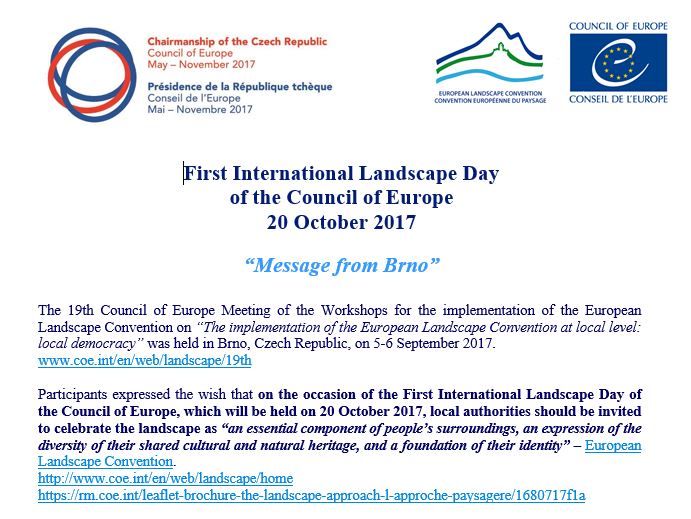 The 19th Council of Europe Meeting of the Workshops for the implementation of the European Landscape Convention on "The implementation of the European Landscape Convention at local level: local democracy" was held in Brno, Czech Republic, on 5-6 September 2017. www.coe.int/en/web/landscape/19th
Mai 2016
Understanding the Significance and Character of Place
Two day CPD course run by Historic England and the University of Leicester exploring the significance and character of place. The course will be held on the main university campus on the 24 and 25 May 2016.
There are places left. Tickets at reduced fee can be purchaised here.
September 2016